The Philippines-Japan Environmental Week
| | |
| --- | --- |
| Date | 2-4 March 2022 |
| Venue | Online Event |
Department of Environment and Natural Resources (DENR), the Philippines and Ministry of the Environment, Japan (MOEJ) will jointly organize a virtual event "The Philippines -Japan Environmental Week" on 2nd - 4th March 2022, with the aim of providing opportunities to discuss our common environmental issues and share innovative and emerging environmental solutions for building decarbonized and sustainable future.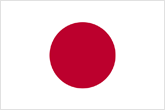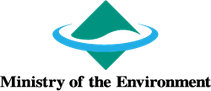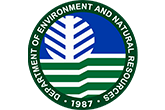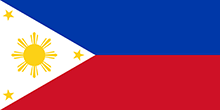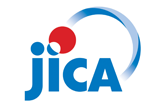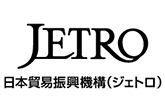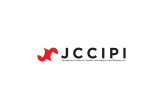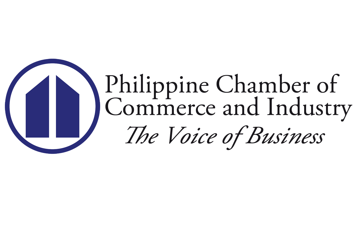 Registration
Register for your free participation via "Registration" button.
Online Exhibition (2-4 March 2022)
Japanese companies / organizations with environmental solution will introduce the technology and initiatives by videos, materials, web links, etc.
Online Seminar (3-4 March 2022)
The High-Levels from DENR and Japan will deliver the opening remarks with expectation to further bilateral cooperation and this Environment Week. In the seminars especially business presentation session, specific time slots for the businesses to introduce their company and technologies will be allocated to facilitate a Business Match.
The Philippines-Japan Environmental Week Program
Please click here for the detailed program table
Today's seminars can be joined from the following URL:
https://us06web.zoom.us/j/85887898558?pwd=WTlRdGJOVGVwaDJNaDRSR1cwZXVvQT09
* This URL is valid for all the seminars.
* Please register in advance from [Registration] button if possible.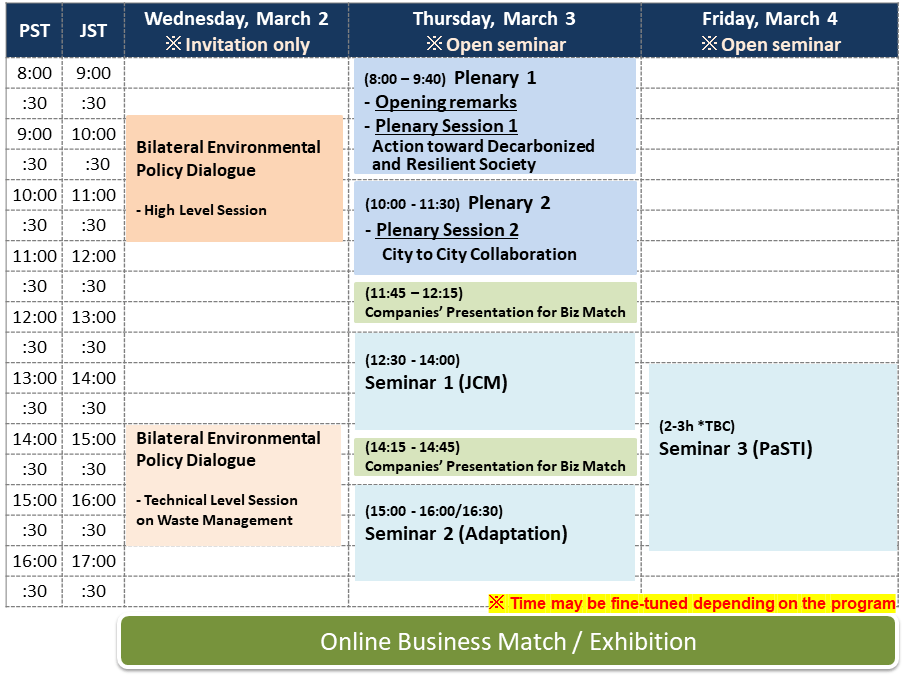 Seminar Detail
(JST)
(PST)
9:00~10:40
8:00~9:40

Opening & Plenary Session 1

Action toward Decarbonized and Resilient Society

・The world is beginning to share a common recognition of the climate crisis. Japan declared to attain the targets of achieving net-zero greenhouse gas (GHG) emissions by 2050 and reducing its GHG emissions by 46% in fiscal year 2030. In order to meet these challenging targets, it is essential for Japan to promote a shift to a sustainable, resilient socioeconomic system, with decarbonization being positioned as one of the major issues to be tackled in all socioeconomic activities and with proactive decarbonization measures being regarded as a driving force for the next substantial growth of the country.

・The Philippines announced at COP26 that the Philippine government will step up its efforts to address climate change and also stated that the Philippines aims to achieve a 75% reduction in greenhouse gas emissions by 2030. The Philippines is among the top five countries that are most affected by climate change, suffering the impact of extreme weather events such as typhoons reaching the (highest) Category 5 intensity.

・Climate change is an issue that all people around the world, across generations and national borders, should urgently tackle. For many private sector actors, it remains challenging to understand how the impacts of climate change may influence their business profitability and continuity over time, and how they can manage climate risks.

・This session explores how central and local governments can further engage with the private sector to address these challenges with a view to establishing decarbonized society and strengthening its resilience to the negative impacts of climate change.

Opening remarks

Atty. Jonas R. Leones,
Undersecretary for Environment and International Environment Affairs, Department
of Environment and Natural Resources (DENR)
Mr. Nakagawa Yasuhiro, Parliamentary Vice-Minister of the Environment, Japan
Mr. Koshikawa Kazuhiko, Ambassador, Embassy of Japan in the Philippines

Plenary 1
Keynote Speech

The Philippines Actions and Plan for decarbonized and resilient society

ATTY. ANALIZA REBUELTA-THE, Undersecretary for Finance, Information
Systems and Climate Change *Pre-recorded presentation

Plenary 1
Keynote Speech

Role of businesses towards a resilient, sustainable, and decarbonized society

Ms. Sandra Wu Wen-Hsiu, UN Global Compact Board member / Chairperson
and CEO of Kokusai Kogyo Co., Ltd
PDF

Presentations

Efforts by the private sector of the Philippines toward decarbonization

Mr. Ricky De Castro, Director, Business for Sustainable Development

Presentations

Introduction of Long-Term Strategy planning using AIM simulation model

Dr. Junichi Fujino, Programme Director of the Integrated Sustainability Centre,
IGES
PDF

Panel Discussion / Interactions

<Facilitator>
Dr. Kazuhiko Takemoto, OECC President / former Director of UNU-IAS

<Panelists>
Mr. Albert A. Magalang, Chief, Climate Change Division, DENR

Mr. Ricky De Castro, Director, Business for Sustainable Development

Dr. Junichi Fujino, Programme Director of the Integrated Sustainability Centre,
IGES

PDF
11:00~12:30
10:00~11:30

Plenary Session 2

City's efforts & City to City Collaboration

・With the full-scale operation of the Paris Agreement started in 2020, decarbonization efforts in all countries are becoming more important. Globally, densely populated cities have functions such as transportation, waste management, energy supply & demand, and water supply, which are estimated to account for more than 70% of the total GHG emissions. Therefore, efforts toward decarbonization at the city level is essential.

・In order to contribute to realize decarbonization, Japan and the Philippines are implementing efforts such as cooperation between local governments, and project-based initiatives in which private businesses participate. Further strengthening of efforts is required in the future.

・In this session, participants will learn the best practices of city's initiative in the Philippines in the context of the climate change or specific projects of the city-to-city collaboration between the Philippines and Japan, and discussing further actions and collaborations for building a decarbonization society.

Keynote Address

Introduction of the Session theme from the Facilitator
Overview of an importance of City's roles and efforts and City to City collaboration
in climate change context

Dr. Junichi Fujino, Programme Director of the Integrated Sustainability Centre,
IGES

Keynote Address

Message from City (Mayor from the Philippines)

San Carlos City (in the province of Negros Occidental, Philippines)
PDF
PDF

Presentations

Initiatives on climate mitigation or ambitious targets

Pasig City
PDF

Presentations

Best practices of City-to-City cooperation

Osaka City + Quezon City
Kitakyushu City + Davao City
PDF
PDF
PDF
PDF

Panel Discussion / Interactions

<Facilitator>
Dr. Junichi Fujino, Programme Director of the Integrated Sustainability Centre, IGES

PDF
13:30~15:00
12:30~14:00

Thematic Session 1

Seminar on the Joint Crediting Mechanism (JCM) Implementation in the Philippines

・The Ministry of the Environment, Japan (MOEJ) is promoting dissemination of advanced decarbonizing technologies through Financing Programme for JCM Model Projects. In this seminar, the Japanese government and the Philippine government will make presentations on measures related to the JCM.

・The related organizations will explain the outline of the JCM scheme, and an implementation company introduce to a case study of JCM Model Project in the Philippines.

・This seminar aims to promote the formation of JCM projects in the Philippines by deepening participants' understanding of policies, lessons learned from the implemented projects, and promising field in the Philippines.

Opening remarks

Office of Market Mechanisms, Climate Change Policy Division, Global Environment
Bureau, Ministry of the Environment, Japan
Department of Environment and Natural Resources (DENR), Philippines

Presentations by the governments-

Recent development of the JCM (Joint Crediting Mechanism)

Office of Market Mechanisms, Climate Change Policy Division, Global Environment
Bureau, Ministry of the Environment of Japan
PDF

Presentations by the governments-

Policies in the Philippines and Expectations on JCM

Department of Environment and Natural Resources (DENR), Philippines
PDF

Presentations by various organizations / companies

Financing Programme for JCM Model Projects & JCM Global Match

Global Environment Centre Foundation (GEC)
PDF

Presentations by various organizations / companies

Facilitating JCM project development

Overseas Environmental Cooperation Center, Japan (OECC)
PDF

Presentations by various organizations / companies

JCM Model Project in Philippines

Q&A

Closing Address-

Overseas Environmental Cooperation Center, Japan (OECC)
16:00~17:00
15:00~16:00

Thematic Session 2

Introduction of E-learning training materials of Climate Change Adaptation ISO

In developing countries, there is still few information to be used in planning and implementing of climate change adaptation measures, especially in local governments and communities. In addition, while there is a lot of information in English, it is difficult to obtain information in other local languages.

The International Standard for Climate Change Adaptation (ISO) formulated in 2019 and 2020 has become an international standard that is expected to be used universally in both developed and developing countries. This ISO will be used by local government officials in an easy-to-use manner, and will introduce efforts aimed at supporting adaptation planning and implementation in developing countries through the development of online teaching materials in multiple languages.

The event organizer (OECC) will explain the purpose and outline of the training materials. And OECC will introduce the actual video training materials for encourage to use them to support planning and implementation of climate change adaptation.

Introduction of Participatory coastal land-use management (PCLM) project in Oriental Mindoro

This presentation aims to introduce the Participatory Coastal Land-use Management (PCLM) approach, which uses participatory approaches and geospatial tools to promote climate-resilient coastal land-use planning.

Particular focus will be on the application of PCLM in Oriental Mindoro Province of the Philippines, and on a free guidebook developed for training government officials.

PCLM consists of a four-step process including: scenario development, impact assessment, countermeasure identification, and climate resilient land-use planning and implementation. A guidebook explaining the full details of the approach is available online at:
https://www.iges.or.jp/en/pub/pclm-guidebook/en

Introduction of Participatory coastal land-use management (PCLM) project in
Oriental Mindoro

Mr. Brian Johnson
Deputy Director of Adaptation and Water Area, Institute for Global
Environmental Strategies
PDF
PDF

Q&A
(JST)
(PST)
10:30~13:30
9:30~12:30

Thematic Session 3

PaSTI Public Private Sector Dialogue on MRV

Since 2020, the Department of Environment and Natural Resources (DENR) in collaboration with the Overseas Environmental Cooperation Center (OECC), Japan and the Ministry of the Environment, Japan (MOEJ) is developing the Measurement, Reporting and Verification (MRV) system for NDC mitigation measures in the Waste and Industrial Processes and Product Use (IPPU) sectors, through support being provided by the Partnership to Strengthen Transparency for co-Innovation (PaSTI) in order to track progress towards achievement of goals set in the NDC and to highlight mitigation efforts made by the private sector.

The objective of this dialogue is to facilitate the communication between the public and private sectors and incorporate ideas from the private sector for the development of MRV regarding the Green House Gas emissions and reductions and potential incentive mechanisms which shall be implemented in 2022.

PDF
PDF

Opening remarks

Environmental Management Bureau, Department of Environment and Natural Resources
Office of International Strategy on Climate Change, Global Environment Bureau,
Ministry of the Environment, Japan

Plan for the Pilot Project 2022

Data needed for the GHG Inventory 2015&2020

Environmental Management Bureau, Department of Environment and Natural Resources

Plan for the Pilot Project 2022

Key findings from the Sector-specific Key Informant Interviews

Environweave, Ms. Melissa Cardenas

Q&A

Public Private Sector Dialogue -Panel Discussion

Moderated by Mr. Jiro Ogahara, Senior Researcher, OECC

Guiding Questions

- What factors or elements would enable a functional facility-level MRV?
- Challenges on the data collection

Closing

Overview of the Pilot Project (15min)

Mr. Riki Nakajima, Researcher, OECC

Closing

Wrap up of the PaSTI WS / Closing Remarks

Environmental Management Bureau, Department of Environment and Natural Resources
(JST)
(PST)
2022/3/3 (Thu)

Companies' Presentation for Biz Match ①

12:30~13:30
11:30~12:30
Nippon Steel Engineering Co., Ltd.
PDF
HITACHI ZOSEN CORPORATION
PDF
Eight-Japan Engineering Consultants Inc.
PDF
JGC Corporation
PDF
FUSO Corporation
PDF
Yachiyo Engineering Co., Ltd.
PDF
JFE Engineering Corporation
PDF
2022/3/3 (Thu)

Companies' Presentation for Biz Match ②

14:30~15:30
13:30~14:30
Okamura Vietnam Co.,Ltd
PDF
AMCON INC.
PDF
NPO Bio-Eco Technology Research Center, Japan
PDF
Kyowa Kako Co., Ltd.
PDF
Nomura Kohsan Co., Ltd.
PDF
Hamada Co., Ltd.
PDF
RION CO., LTD.
PDF